Retail projects are some of the most exciting and challenging projects to be part of. For these clients, time is money and quality can not be sparred at any expense. Nathan's Glass delivers some of the most challenging design concepts and function solutions all while taking advantage of our in-house fabrication facility and strong industry partnerships to allow for unbeatable lead times getting our clients' stores looking top notch and finished fast.
The residential boom has brought Nathan's Glass some of the most notable projects in our portfolio. Working with stellar companies, Nathan's Glass provides high quality products for both exterior and interior applications for any size residential development. Our in-house fabrication capabilities allow for budget friendly pricing on anything from curtain walls to railings, mirrors to shower doors.
Satisfying the commercial and public facilities market is an accomplishment that doesn't come easy. Nathan's Glass has aquired the know how and organizational accuracy to take on any public or commercial projects such as schools, fire stations, court houses, and office buildings. Nathan's Glass is able to accommodate the meticulous requirements of government projects and public facilities.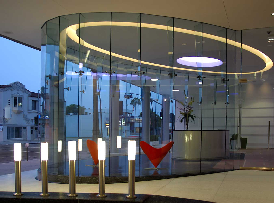 Private residence custom homes is Nathan's Glass most mastered category with over 30 years experience in mirror, shower door, glass railing, skylight, window, counter tops, and partition installations. Nathan's Glass owes its success to all the loyal home owners, general contractors, and developers who have been using Nathan's Glass' services and products in their private and custom home projects for many years. Our projects have spanned to include small private condos all the way to properties owned by royalty and celebrities with price tags as high as $100 Million.